Web Visitors
EMPLOYMENT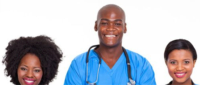 &nbsp View vanancies and apply for
&nbsp jobs at Diaspora Affairs:


MAKE A DONATION


Please make a donation to support our cause.

Thank you.

Payment Info:

Bank: Barclays
S/c: 20-49-81
A/c: 30723150

SWIFTBIC: BARCGB22
IBAN: GB37 BARC 2049 8130 7231 50


NEWS & EVENTS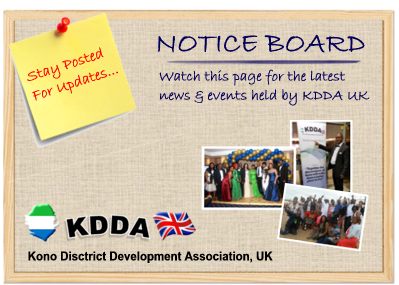 ---
KDDA UK General Meeting Dates (2018)
Please reserve the dates below (All on Saturday) for the
Kono District Development Association (KDDA) UK
monthly General Meetings, with our standard template:

TIME: 18.30hrs to 20:30hrs

VENUE:

Actra Tenant Hall
375 Old Kent road
London SE1 5JQ

DATES:

24th February 2018
31st March 2018
21st April 2018
26th May 2018
30th June 2018
28th July 2018
25th August 2018
29th September 2018
27th October 2018
24th November 2018

Thanks for your continuous support.
---
KDDA UK Fundraising Dinner & Dance
(Friday 25th May 2018)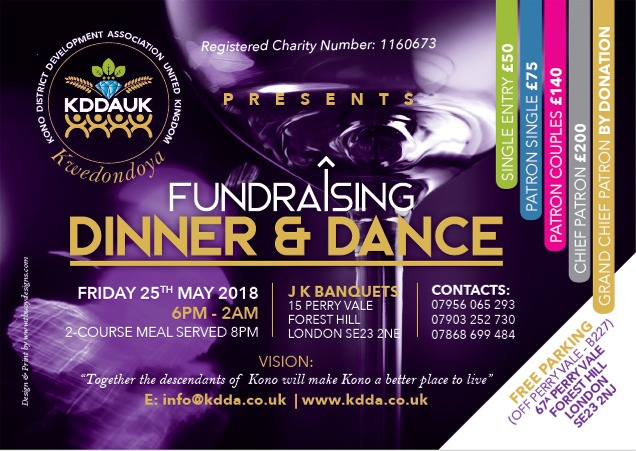 Download Flyer (PDF)
---
KDDA UK Donated Medicines to the
14 Chiefdoms of Kono District (3rd January 2018)
---
KDDA UK Appeal (Tues. 10th Oct. 2017)
Medicines Shipment To Freetown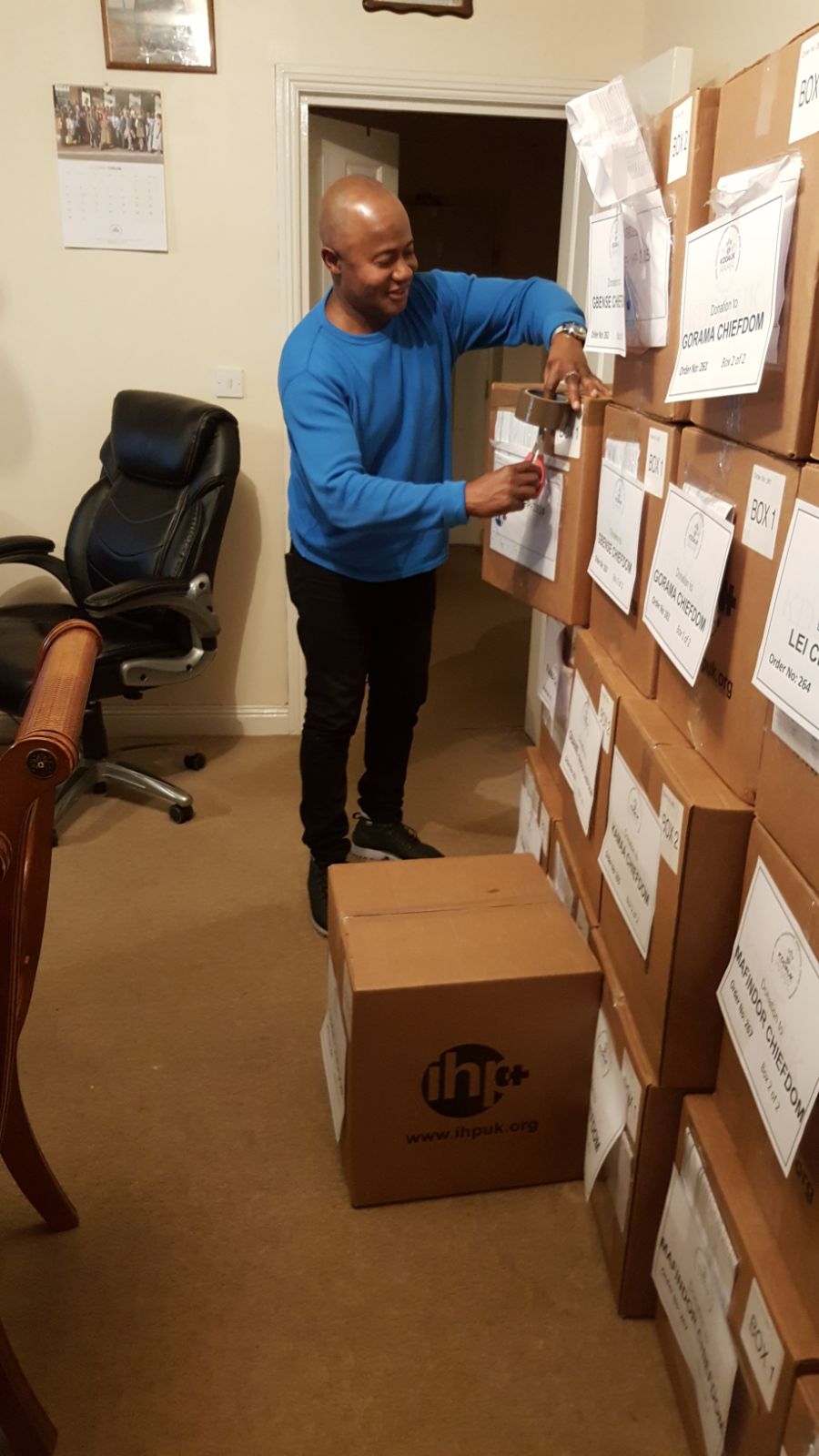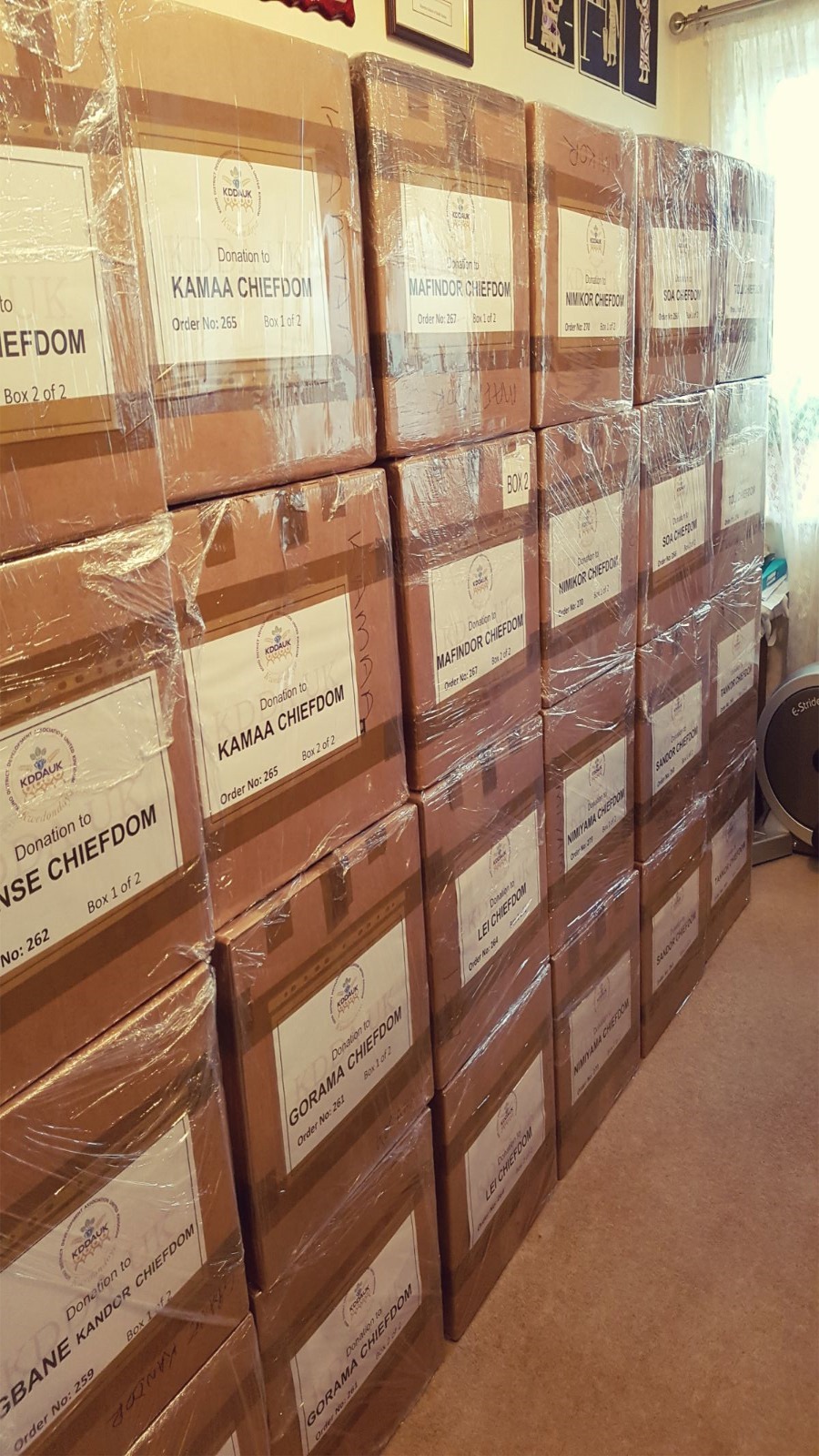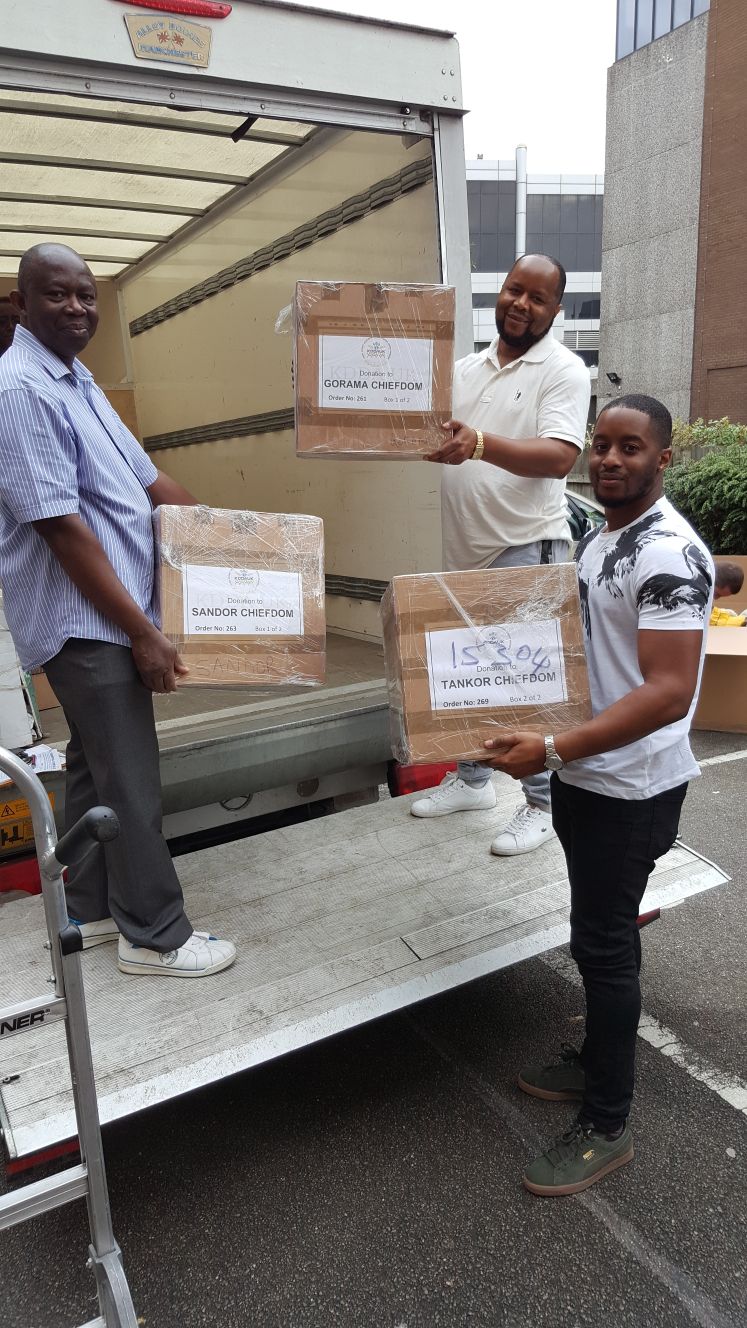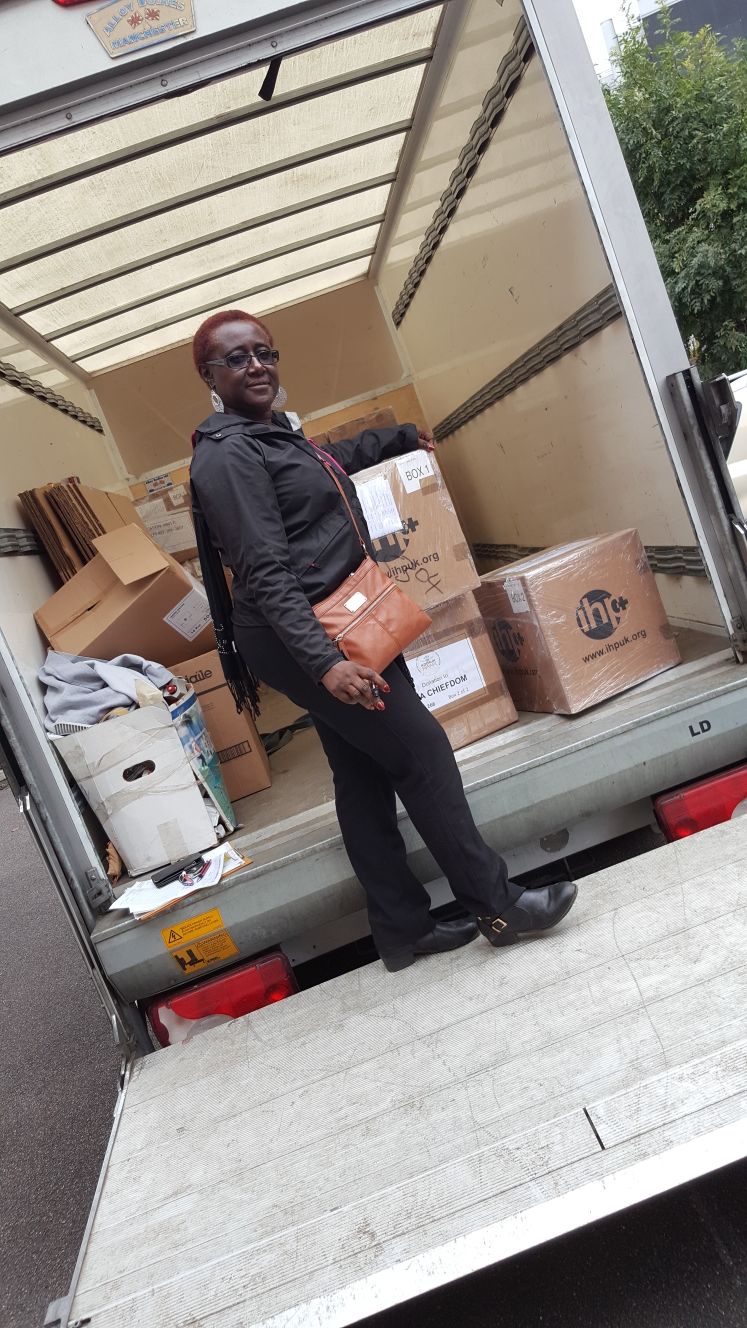 On Tuesday 10th October 2017, in Hemel Hempstead, 28 donated medicine packs were loaded for shipment to Freetown, Sierra Leone for all 14 Chiefdoms in Kono District plus an extra 2 boxes for Koidu Government Hospital. We are appealing to you to provide financial support for the shipment cost to Freetown, Sierra Leone.

The project total funding is £65,123.85. However, KDDAUK contributed £5,600.00 towards acquiring the medicines. Each pack (2 boxes) has an NHS reimbursement value of £4341.59 and contains 876 courses of treatment.
Any financial donation must be paid into the KDDA UK Barclays bank account with reference Medsshipment:

&nbsp Payment Details (UK):

&nbsp Bank: KDDA UK Barclays
&nbsp Account Num: 30723150
&nbsp Sort Code: 20-49-81

&nbsp Reference: MedsShipment



&nbsp Payment Details (International):

&nbsp SWIFTBIC: BARCGB22
&nbsp IBAN: GB37 BARC 2049 8130 7231 50

(KDDA UK Charity registration number: 1160673)




For more details please contact:

Mr. Ahmed Sulaiman Bah on +447456809785 or
Mrs. Nganga Elizabeth Tondoneh on +447956065293

Thank you in advance for your support.





---
Public Sensitisation of KDDA UK Draft Policies
Please send us your views and comments on the documents/draft policies linked below. Your views and engagement are important to us to make KDDA UK a better, positive and open organisation. You are our best resource when it comes to creating, tweaking and expanding our Organisation to be a leading charity within our community and in the diaspora.

Thanks for your continued support and please cascade the news to members.
---
** Press Release (19th April 2017) **
709.41 Carats Diamond Found In Kono District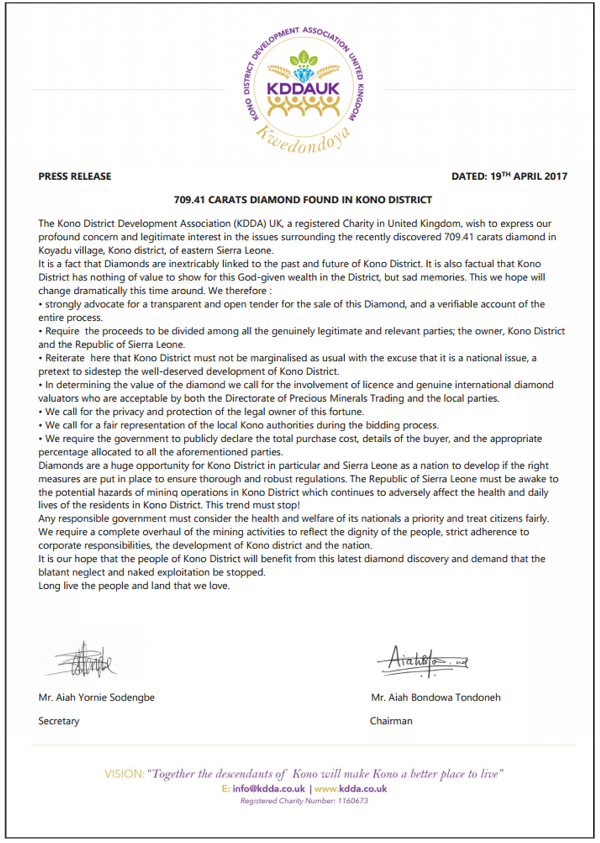 Read The Full Letter (PDF)
---
Bridging The Gap - Salone Embassy, UK
(Monday 20th March 2017)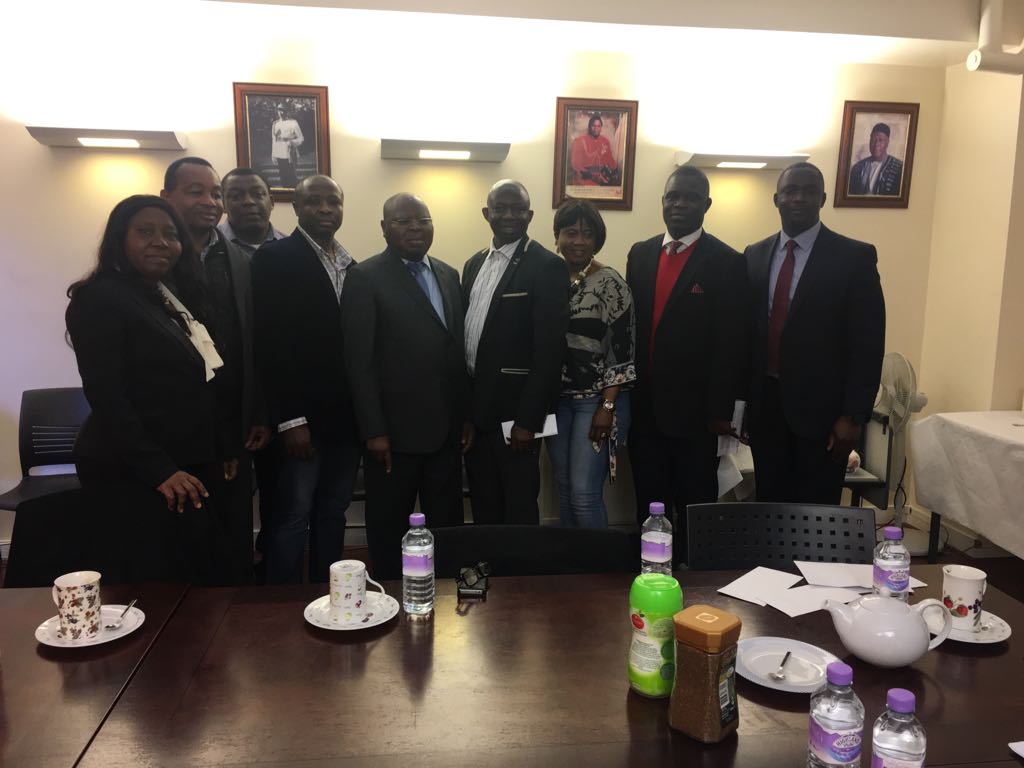 A strong delegation of KDDA UK officials made a courtesy visit to the Sierra Leone High Commission in London on Monday 20th March 2017. The delegation included the KDDA UK Chairman Mr. Aiah Bondowa Tondoneh, the KDDA UK Secretary Mr. Aiah Yornie Sodengbe, the Assistant Secretary Mr. Samuel Foyoh, the Assistant Treasurer Mrs. Elizabeth Nganga Tondoneh, and the Assistant Community Welfare & Outreach Officer Mr. Denis Turner.

The meeting commenced with a welcome address at 12:30 hours by the Deputy High Commissioner for Sierra Leone accredited to the court of St. James in London; His Excellency Mr. Tamba Mansa Ngegba. He introduced his embassy staff which included; the Head of Chancery His Excellency Mr. Alan C. Logan, the First Secretary Mrs. Sia Tejan, the Minister Plenipotentiary Mr. Sorie Sudan Sesay, and the Finance attache Mr. John Ellie. Mr. Lansana Sangarie was also in attendance. We were accorded a warm welcome and HE Mansa Ngegba appreciated our visit and stressed that their policy to engage nationals will be maintained.

In his brief and explicit opening statement, the Kono District Development Association (KDDA) UK Chairman Mr. Tondoneh opined that KDDA UK Charity was apolitical and that the main focus of our association is to foster development in Sierra Leone. He acknowledged that bridging the gap was essential for our mutual interests. He also emphasised that in line with the KDDA UK Mission and Vision objectives; " KDDA UK will support any government that brings development to Kono District and make our Country a better place to live". Mr. Tondoneh solicited the cooperation of the High Commission in achieving our development goals and thanked the staff for honouring the invitation.

In addition to Mr. Tondoneh's pronouncement, the KDDA UK Secretary urged the High Commission to improve communication with the Diaspora community & that gathering of this nature must be continuous. He urged the High Commission to provide a website that would serve the public as a resource centre. He suggested scheduled Town meetings with citizens. Mr. Foyoh commended the High Commission in their previous effort to forge unity among the Kono community in UK. Mr. Foyoh also suggested that voting by Diaspora communities be explored. Mr. D.Turner pleaded with the staff to link KDDA UK with other development partners. Mrs. Tondoneh stressed the need for the embassy to engage with KDDA UK to promote development in Sierra Leone. She invited the High Commission staff to the pending KDDA UK Sierra Leone Independence Day Dance & Dinner scheduled for 28/04/17 and the response was positive.

In his response, His Excellency Mr. Logan described our visit as " Laudable idea to present ourselves to the High Commission". Mr. Logan also stated that the symbiotic relationship between us could assist the High Commission in promoting vital functions like trade fairs etc. He advised that all enquiries should be channelled to their official email address: info@slhc-uk.org. Mr. Sorie Sudan Sesay also confirmed that the website is being updated to modern standard.

His Excellency the Deputy Commissioner Mr. Ngegba assured us that the key fundamentals of diplomacy is care to citizenry and reiterated that it is the bedrock of diplomacy. He expressed his satisfaction at our approach and informed us that details of our discussion will be relayed to the Sierra Leone High Commissioner to UK His Excellency Eddie Turay, who is currently on official duties in Sierra Leone.

The meeting concluded with a photo session at 13:24 hours.
---
Sierra Leone Independence Day - Dinner & Dance
(Friday 28th April 2017)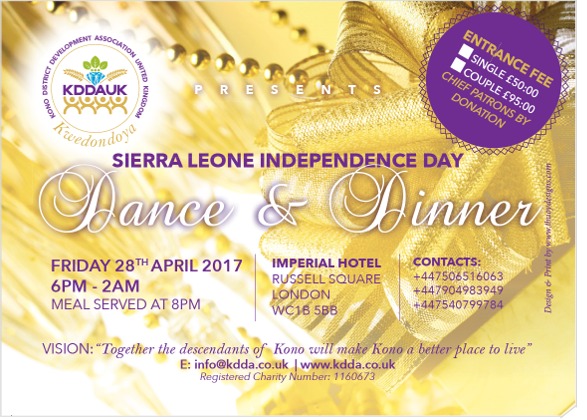 Download Flyer (PDF)
---
Legal Disclaimer
John Anderson from Cranfield Trust is the only Consultant for Kono District Development Association, United Kingdom (KDDA UK). KDDA UK will not be held responsible for any other person or organisation, falsely claiming to be a consultant on behalf of KDDA UK.
---
KDDA Logo Samples (Help Us Choose)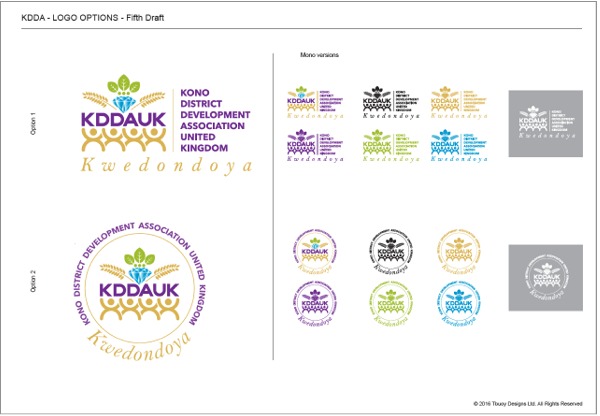 View Full-size Document
Dear All,

As part of the transformation going through our charity Kono District Development Association United Kingdom. It was proposed to have a professional logo that portrays the Charity's motto and values.

Above are 2 samples of the new proposed KDDA UK Logos designed by Tbuoy designs; we are asking you our members, friends, and well wishers to help select one from option 1 and option 2; Which design do you think would reflect the KDDA UK motto, values and aspirations, bearing in mind that the association was recently accredited a full charity status. Other designs and comments are welcome for consideration.

Please forward your comments and recommendations to kddanewsletter@hotmail.com or on KDDA UK WhatsApp forum as soon as possible.

Thanks.
---
KDDA UK EXECUTIVE ELECTIONS RESULT 2016
The result for the Kono District Development Association (KDDA) United Kingdom Executive Elections held on Saturday 1st October 2016 and certified by the KDDA UK Electoral Commissioners are as follows:

Chairperson: Mr. Aiah Bondowa Tondoneh Assistant Chairperson: Mrs. Aminata Bondu Gborie Secretary: Mr. Aiah Yornie Sodengbe Treasurer: Mr. Ahmadu Sulaiman Bah Assistant Treasurer: Mrs. Elizabeth Nganga Tondoneh Social, Event and Publicity Officer: Mr. Tamba Theophilus Gborie Assistant Social, Event and Publicity Assistant: Mrs. Mariama Mafinda Assistant, Social, Event and Publicity Officer: Mr. Tamba Sinah Community, Welfare and Outreach Officer: Mr. David Sahr Moiforay Programme Coordination Officer: Mr. Sahr Adimoinjae Mafinda Assistant Programme Coordination Officer: Mr. Sahr Changati Kamanda

All elected Executive Officers confirmed their willingness to serve as Executives in the KDDA UK Charity. Other vacant Executive positions will be filled in strict regulations accordance to Section 14(M) of the 2015 KDDA UK Bylaws irrespectively.

SIGNED
Mr. David Dingiswayo Nyandemo, Chairman,
&nbsp &nbsp &nbsp KDDA UK Electoral Commission Dr. Sahr M'gbembo Kondeh, Secretary, Electoral Commission Mr. Komba Kellie, Electoral Commissioner Mr. David Aya Lamina, Legal Consultant
---
Press Release (Dated: 20th April 2016)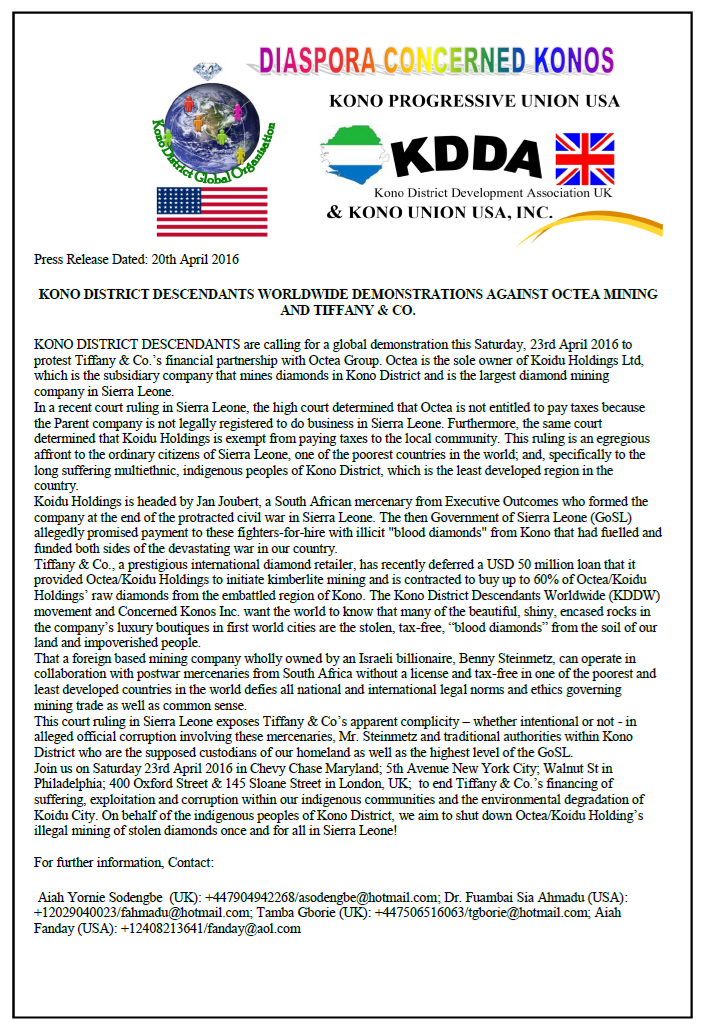 Read The Full Letter (PDF)
---
The Kono Diaspora Letter To President Koroma (Dated: 5th March 2016)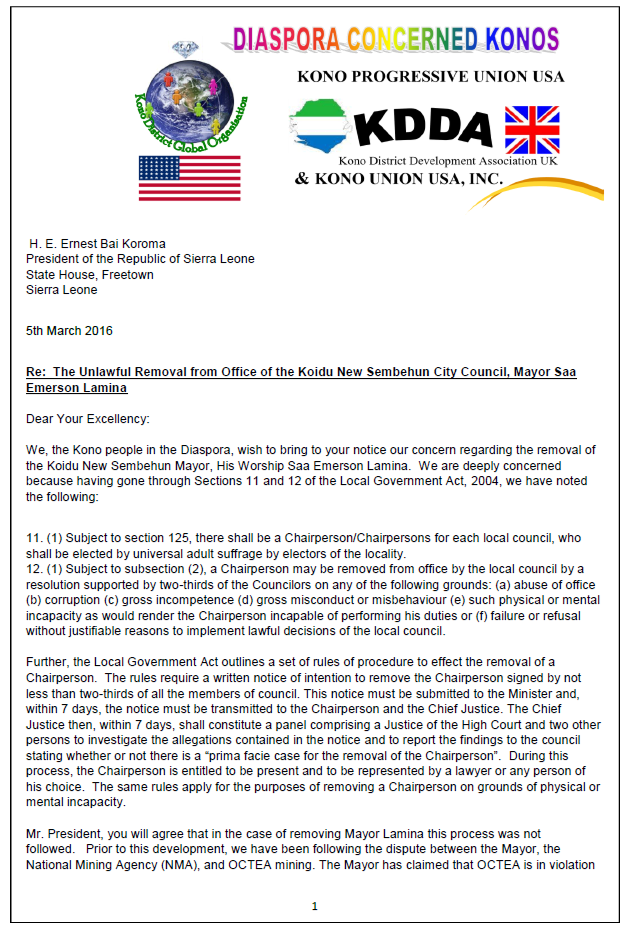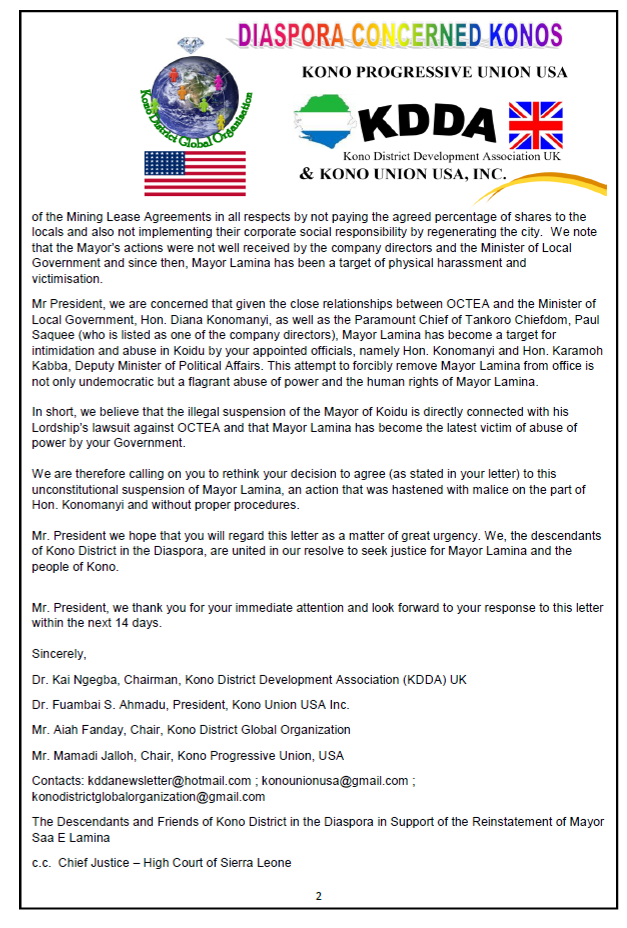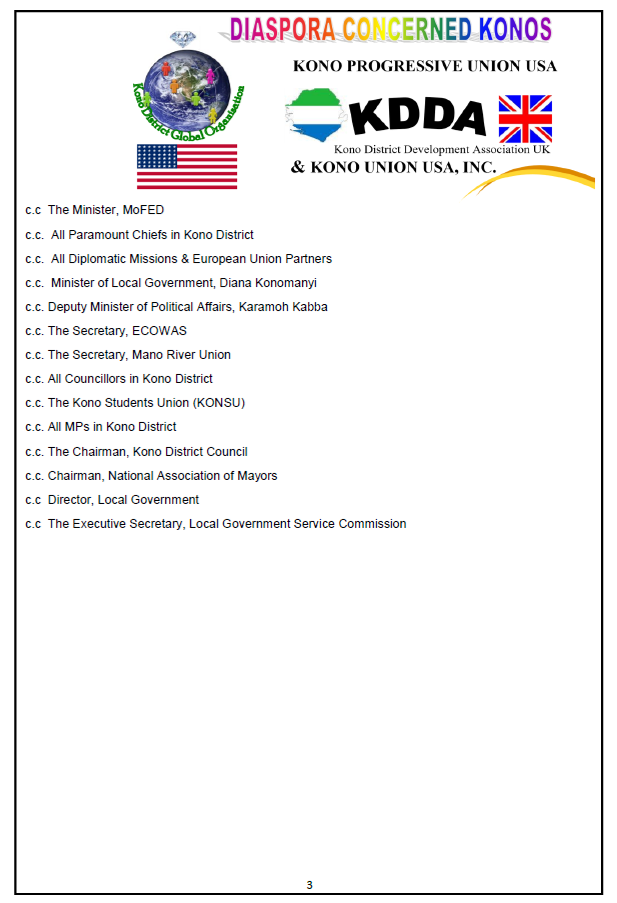 Read The Full Letter
---
Kono Leaders In The Diaspora Speak Out Against Violence In Kono District
18th December 2015
We, the undersigned leaders of Kono organizations in the Diaspora strongly condemn current acts of intimidation and violence in relation to the Constituency 025 Bye-Elections scheduled for Saturday, December 19th in Kono District. In particular, we call the public's immediate attention to the alleged arrests of family members of the opposition party candidate, Sahr Gbondo, as well as the alleged illegal search of his compound yesterday morning. Mr. Gbondo is currently in an undisclosed location within Kono and has expressed fear for his life as well as the safety of his family and supporters.

We have also received information of the alleged "taking in for questioning" of Jonathan Leigh, the editor of the daily Independent Observer, concerning a front page report of the said violence in Kono over the past several days, which included several reported casualties and alleged vandalizing of private and public property.

These alleged activities of intimidation and harassment come on the heel of the appointed Vice President's controversial address to the people of Kono in Gorama Chiefdom last week. In his speech, Hon. Foh asserted that Kono people must vote for the APC party if they wish to receive development in their region. We view this assertion and other disturbing remarks in Hon. Foh's speech as a gross debasement of the people of Kono and an attempt to coerce votes through open blackmail. A formal complaint and press release concerning this blatant flouting of the democratic rights of the people of Kono will be issued in due time.

We ask President Koroma's administration for an immediate investigation of reports of harassment and intimidation of ordinary citizens exercising their constitutional rights to vote in Kono as well as alleged infringement of the rights to free speech and freedom of the press. We ask for public assurance of free and fair elections tomorrow Saturday, December 19th for the people of Sewafe and Gorama to decide their own fate.

Sincerely,

Dr. Kai Ngegba, Chair, Kono District Development Association UK
Dr. Fuambai S. Ahmadu, President, Kono Union USA Inc.
Mr. Aiah Fanday, Chair, Kono District Global Organization
Madame Fatima Wahab, President, Kono Diamond Women's Organization


Contacts:

konounionusa@gmail.com
kddanewsletter@hotmail.com
---
KDDA Bags An International Award (28th March 2015)
The Kono District Development Association (KDDA) UK is proud to inform you that our organisation was awarded a Prestigious award at the Kono Union Ball held in Maryland, USA on Saturday 28th March 2015. As a result of our devoted service, KDDA was voted and presented with the ORGANIZATION OF THE YEAR AWARD. We had a strong representation in the person of Dr. Mohamed Dauda, who received the award on our behalf from the industrious President of Kono Union USA - Dr. Fuambai Sia Ahmadu.

In his acceptance speech, Dr. Mohamed Dauda expressed our delight and appreciation for such an important recognition from one of the vibrant and progressive Kono organisations in the Diaspora. He thanked all those who made this possible and affirmed our desire to improve the bilateral relationship between our organisations, and stressed that the KDDA Chairman Dr. Kai Ngegba is determined to move this special relationship to another level.

Below are two images; an image of the KDDA award and second, Dr. Mohamed Dauda in his immaculate formal traditional Kono attire, proudly showing our award.

Our special thanks to Dr. Mohamed Dauda, the Kono Union USA members and all those who graced this elegant occasion.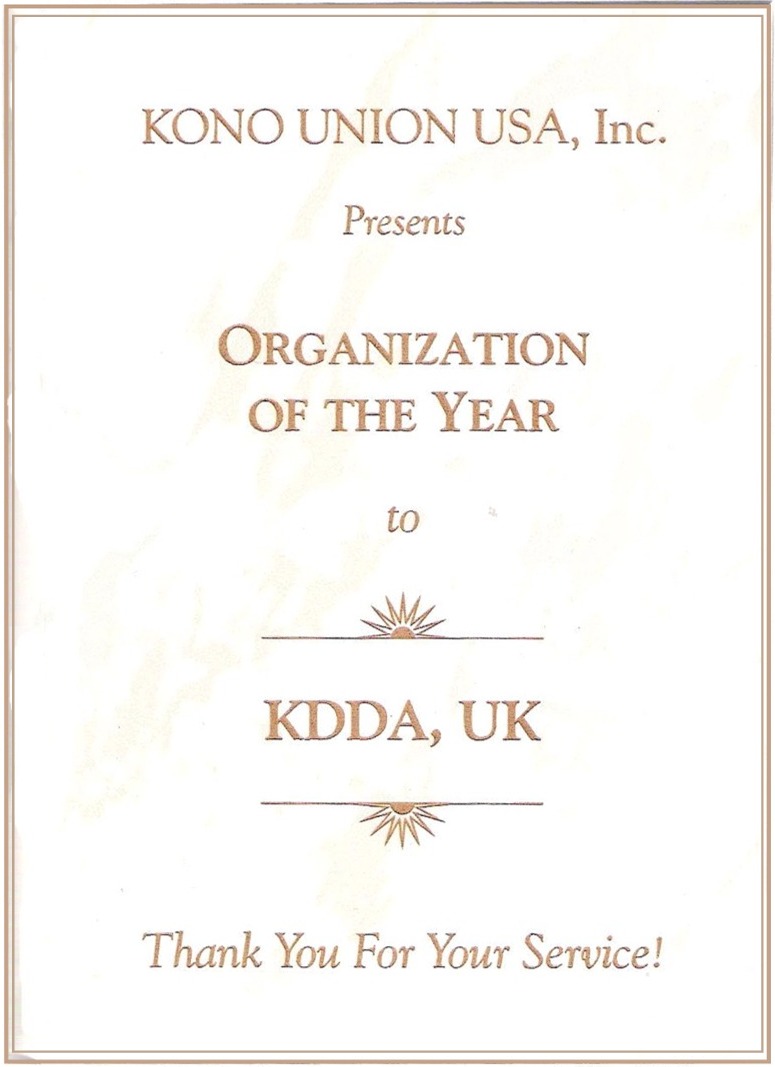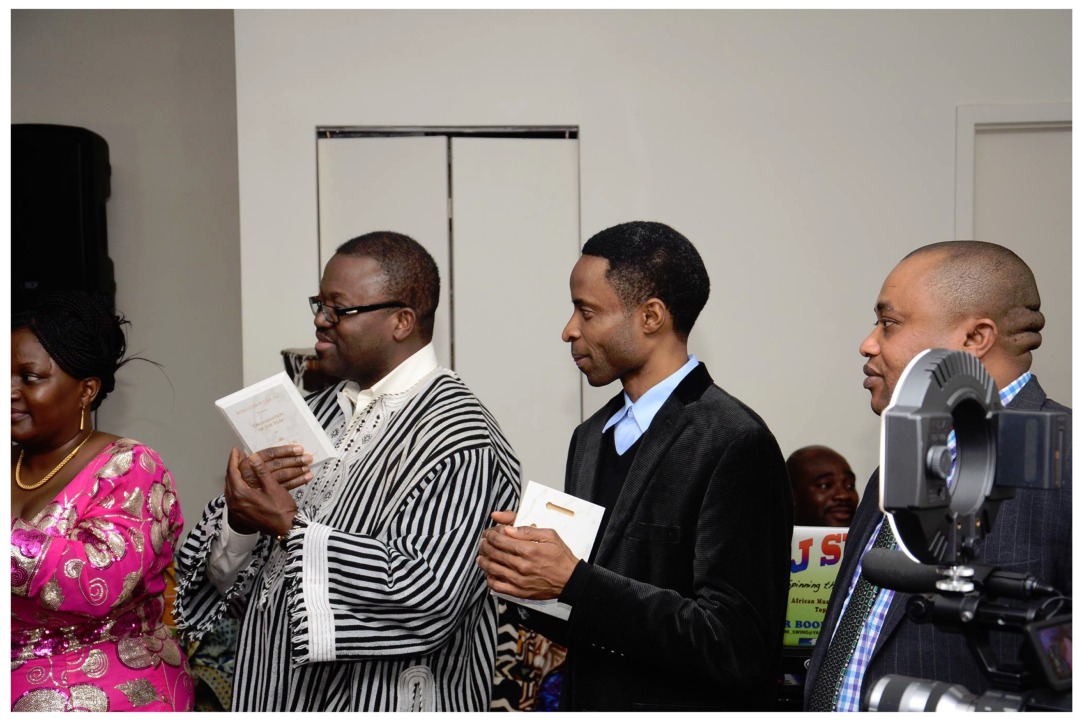 ---
Joint Statement From KDDA (UK)
Kono Union (USA), KDGO & KONSU
(14th March 2015)
Please read the joint statement below, from the Kono District Development Association (KDDA) United Kingdom, Kono Union USA, Kono District Global Organisation (KDGO), and the Kono Students Union (KONSU):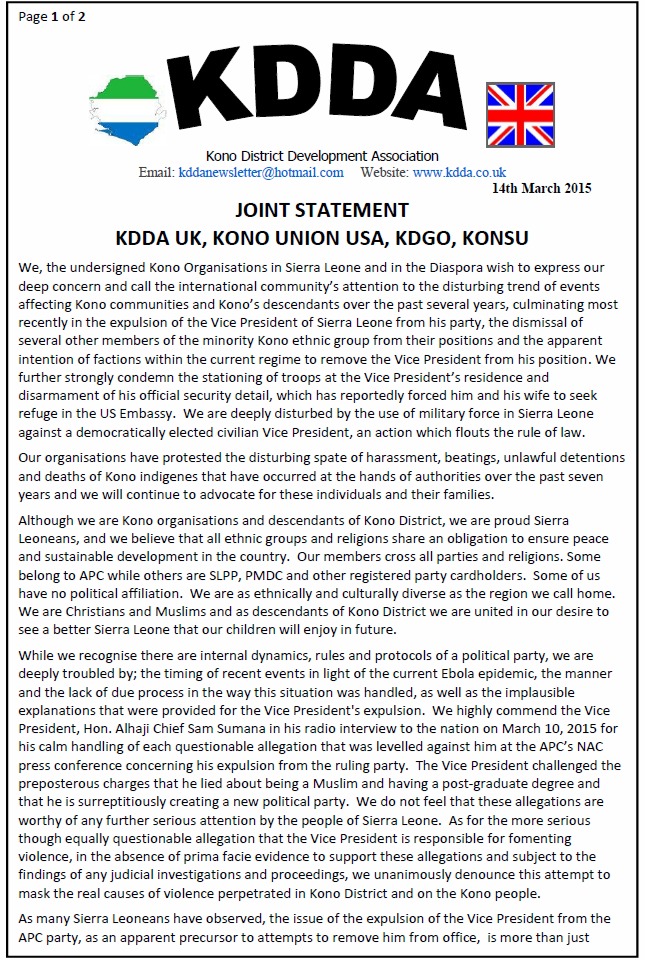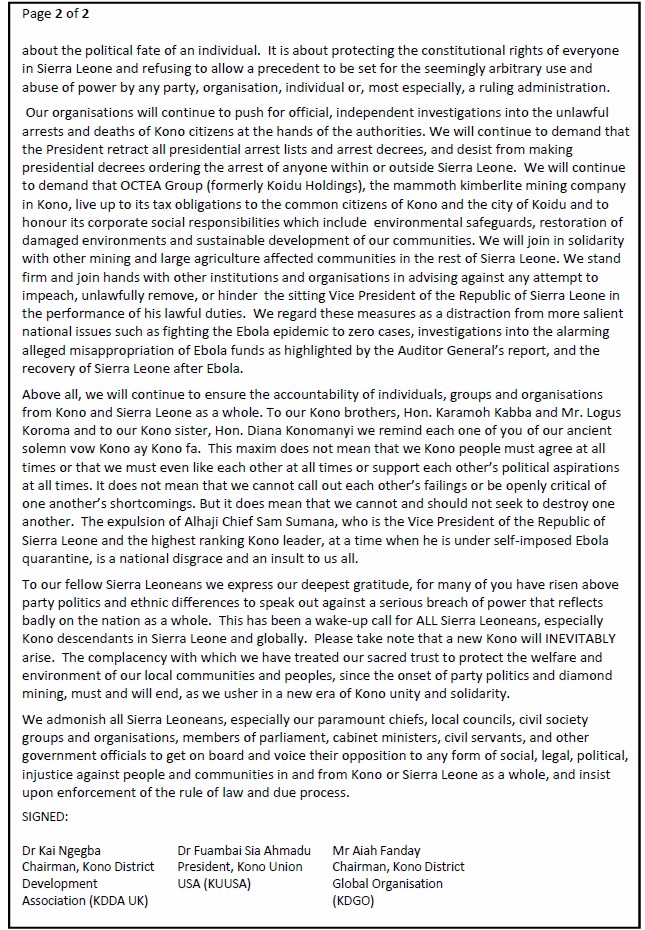 Download PDF Version

Thanks for your continued support.
---
Koidu City Mayor's New Year Message (2015)
Please see below, His Worship Mayor Lamina's New Year's Message, for your attention: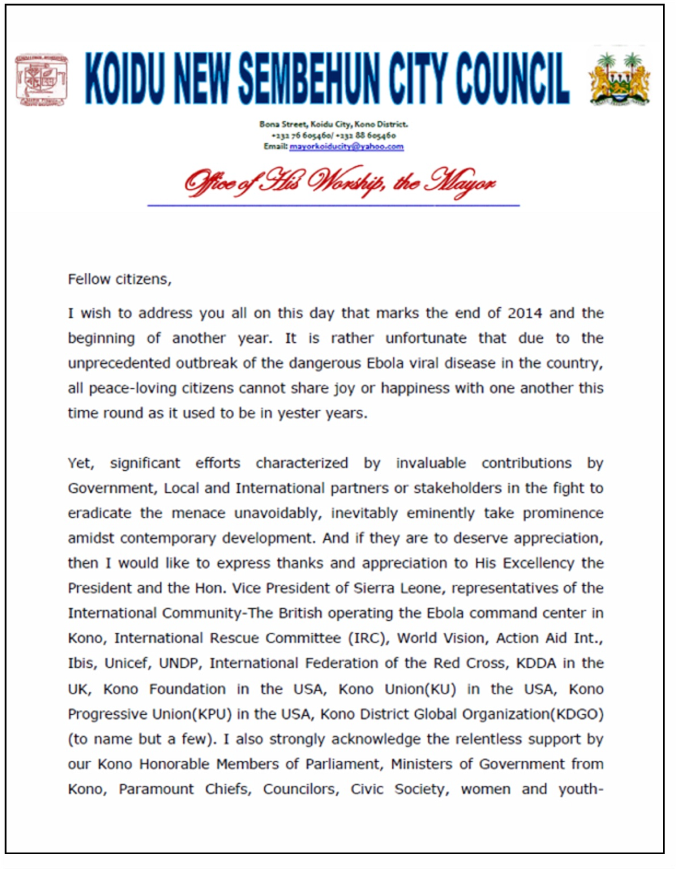 Read The Full New Year Message
Wishing you a Prosperous 2015 and thanks for your continued support over the years.
---
KDDA & KU Press Release (10th Nov 2014)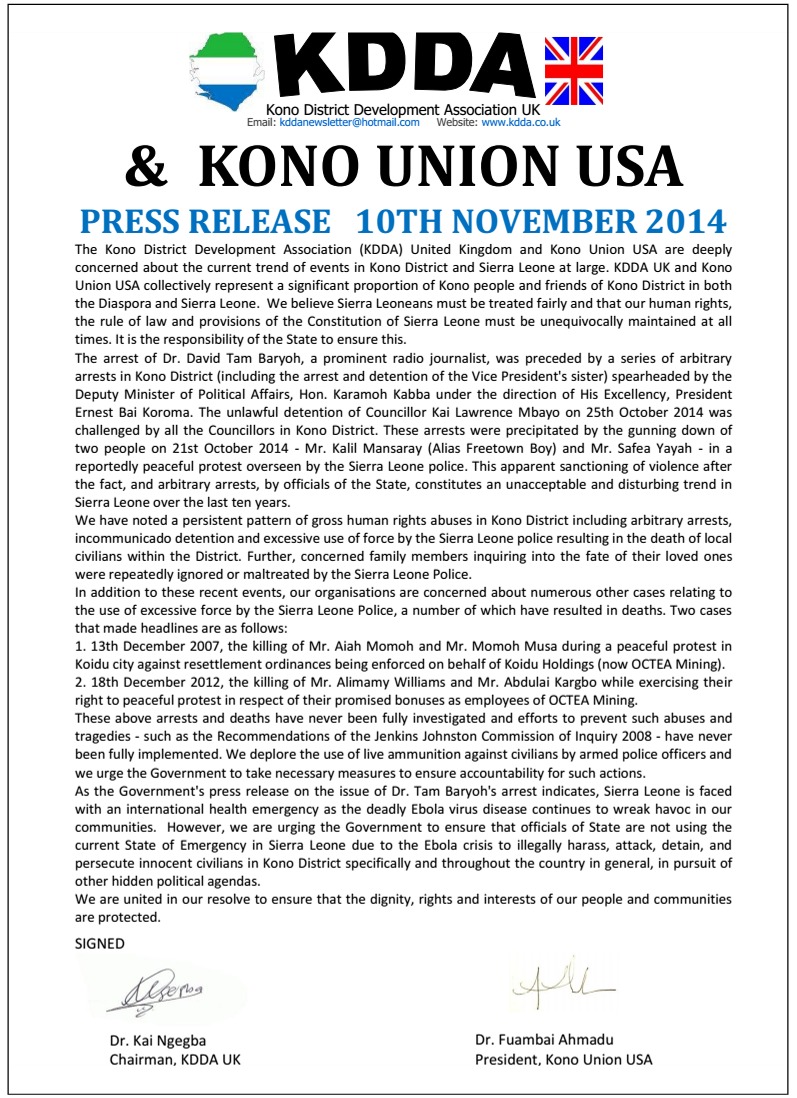 Download PDF Version
---
CONGRATULATION MESSAGE:
From Saa Emerson Lamina, Mayor,
Koidu New Sembehun City Council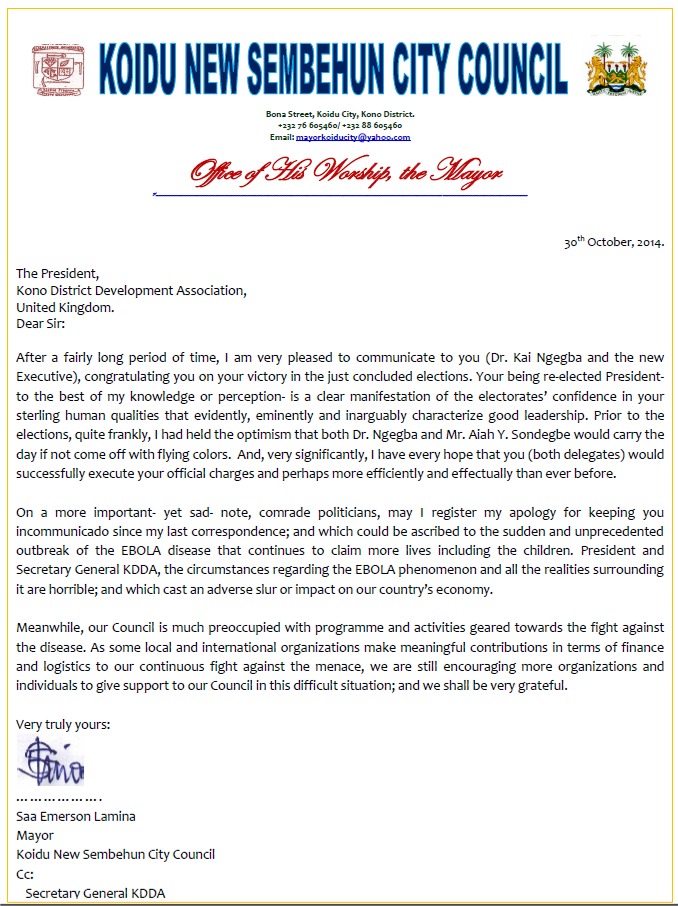 Download PDF Version
---
KDDA Ebola Emergency Fund (KEEF)
Following the Ebola epidemic in West Africa, the Kono District Development Association (KDDA) Ebola Emergency Fund has been set up to help our people in Kono District and Sierra Leone at large. KDDA has provided an opening set up Fund of six hundred pounds (£600.00). We are appealing for donations in this time of dire need.

Ebola is a viral illness that has killed nearly one thousand people in West Africa. The epidemic has mainly affected Guinea, Sierra Leone and Liberia, but has spread to other countries, and has been declared an international public health emergency by the World Health Organization (WHO).

Our coordinated response is vital to prevent and stop the spread of this vicious virus. The situation is serious, our health care system has been overwhelmed and we need to act now.

All donations should be addressed to KDDA and paid into the KDDA account:

Barclays Bank
Account Number: 30723150
Sort Code: 204981

Donations should be referenced with the name of payee and KEEF. Please direct further enquiries to our Coordinators for this Fund:

Mr. Aiah Bondowa Tondoneh via T+447961726773 or abtondoneh@hotmail.com

Mrs. Sia Evelyn Nyandemo via T+447956311757 or konosccan@yahoo.com

Your donations will be used to help with preventive measures and support our people in Kono District and Sierra Leoneans affected by this dreadful virus.

Together we are stronger and please help if you can.

Thanks for your continued support.


&nbsp

REGISTRATION
Apply to become a
KDDA UK Member:


NEWSPAPERS
Read the latest news
from Sierra Leone: